When Molly Was a Harvey Girl was published in 2010 by Kane/Miller Books. Molly is modeled a bit on my own great-grandmother who moved to the wild west in 1886. I don't know much about my great-grandmother, but Molly encounters railroad men, miners, ranchers, the great impresario Buffalo Bill, a tornado of culinary excellence known as Chef Gaston, and the most dangerous desperado of them all - Genius Jim.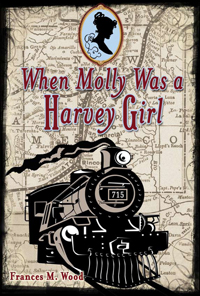 jama rattigan's alphabet soup: "…generously laced with adventure, elements of danger, suspense, excitement, romance, and humor…Ms. Wood seamlessly interweaves fact with fiction in this lively, thoroughly engaging, oftentimes mouthwatering adventure."
Through the Looking Glass Children's Book Reviews: "This thoroughly enjoyable book combines fact, fiction and adventure beautifully, and will give readers a fascinating picture of the past."
Booklist: "The values of education, courage, and simplicity all come together in this delightful tale."


Awards and Honors: Semicolonblog.com, Twelve Best Middle Grade Fiction Books of 2010; Notable Social Studies Trade Book for Young People 2011; Bank Street College of Education, Best Children's Books of the Year 2011.